FW: June 11 - Momentum Growing for United Front Against the War
This just in from Troops Out Now; We are supporters and endorsers. But we also envision something entirely different as well...more on that later,
---
Strategy MeetingSaturday, June 11
11:00 am - 5:00 pm
The New School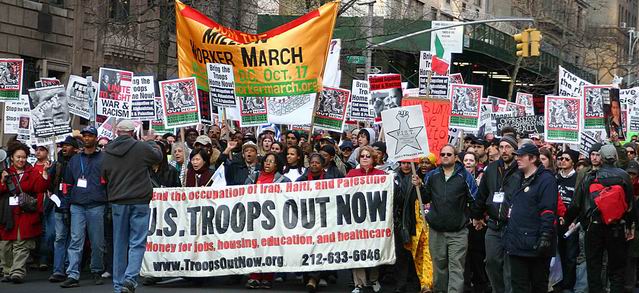 Lang Center
55 W 13th St
New York, NYGETTING U.S. TROOPS OUT OF IRAQ NOW!

THE WORLD DEMANDS IT -
WHAT ARE WE GOING TO DO ABOUT IT?
11 am - 12 noon - Opening presentations
12 noon to 2 pm - Workshops
2 pm to 5 pm - Unity in the Antiwar movement - a discussion
---
Momentum Growing for United Front Against the War
Nearly 1,000 individuals and organizations have endorsed the Troops Out Now Coalition's
Unity Call
(see the
full list of endorsers
online). The growing response indicates that throughout the antiwar movement there is recognition of the obligation to work together to build a strong, unified, determined movement that is actually capable of stopping the war.
The call to unite in massive opposition to the war comes at a critical time. Military recruiting is at an all-time low and every poll indicates that the people are opposed to the criminal occupation of Iraq. It's time to manifest this growing opposition on the streets.

We need your help to build a United Front against the war:
1)
Endorse
- join your name to the growing list of voices demanding unity in the struggle to end the war.
2) Join us at the June 11
Strategy Meeting
3)
Donate
to help with organizing expenses
4) Become a
local organizer
---
Get the Troops Out Now CD!